New products: APA102C-based addressable RGB LED strips
Posted by
Kevin
on 7 July 2015
We're excited to offer a series of APA102C-based addressable RGB LED strips to complement our existing WS2812B-based LED strips. Like the WS2812 strips, the new strips have connectors on both ends to make chaining easy, and they are available in the same six combinations of LED densities and lengths:
Like the WS2812B, the APA102C combines an RGB LED and driver into a single 5050-size package, allowing them to be packed as densely as 144 LEDs per meter, and each pixel can be individually addressed to give you full control over the color of each RGB LED. However, while the WS2812B uses a high-speed one-wire control interface with strict timing requirements, the APA102C has a standard SPI interface, with separate data and clock signals, that lets it work with a wide range of communication rates, making it much easier to control.
For example, it isn't easy for a Raspberry Pi to generate a control signal with the exact timings that the WS281x requires. However, an APA102 only reads its data signal on the rising edge of its clock signal, and the Raspberry Pi controls both signals, meaning it is free to bit-bang data to the LEDs as slowly (or quickly) and as irregularly as it wants. Alternatively, it's straightforward to use the SoC's built-in SPI peripheral to drive APA102 LEDs. Of course, both the bit-banging and hardware SPI approaches can also be used on many other devices, including A-Stars and Arduinos.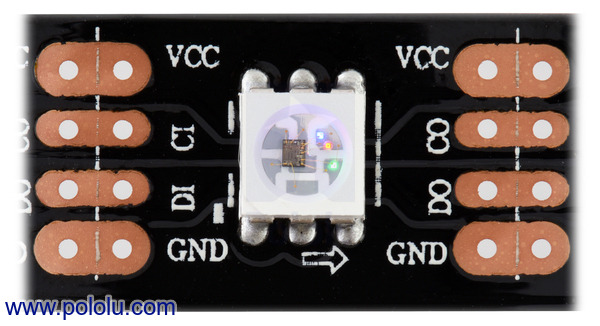 Close up of one segment of an APA102C-based LED strip, with the red, green, and blue LEDs on at a low brightness.
The APA102C also offers a few other improvements over the WS2812B, including a color-independent brightness control that lets you easily adjust the intensity of each LED without changing its color. Also, the color channels on an APA102C are pulse-width modulated (PWM) at a much higher frequency, making it less susceptible to flickering on camera and more suited to persistence-of-vision (POV) applications.
For more information about our APA102C-based LED strips, see their product pages.
0 comments
Post a comment