S3 Pilot board robot
Posted by
Claire
on 28 August 2015
Forum member spiked3, whom we previously posted about, has shared another robot with a custom laser cut chassis. The new robot uses his own custom Arduino shield, the S3-Pilot, which has sockets for an IMU and two of our MC33926 Motor Driver Carriers.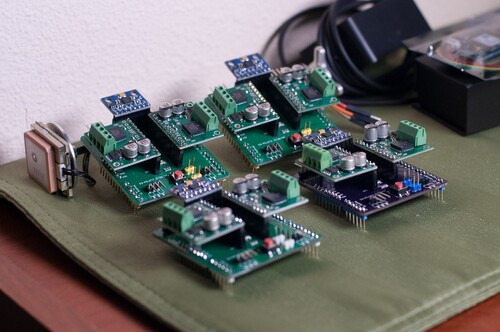 Custom Arduino shield created by forum member spiked3.
The MC33926 drivers control two 37D motors with encoders, and the encoder signals are processed by the Arduino. The robot also includes a lidar, PIXY Cam, and Raspberry Pi. The on-board IMU and encoders allow the robot to keep track of where it is and what direction it is facing, so spiked3 was able to implement a high-level interface for the robot that accepts movement commands like "go forward three meters" or "turn a certain number of degrees to the right".
You can find out more about this robot and see some videos of it being tested on spiked3's blog.
0 comments
Post a comment