Charlie, the cricket
Jonathan Spitz made a fun robot he calls Charlie, the cricket. In his LinkedIn post, Jonathan explains that Charlie uses four motors. Two of the motors are used for walking and the other two are used for sprawling. The four motors are controlled by two Baby Orangutans, which also handle the closed-loop feedback from encoders to free up processing on the Arduino Micro.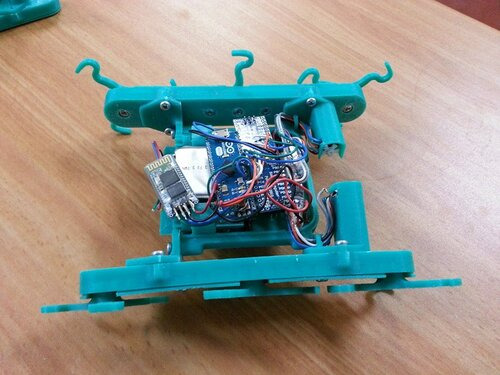 The insides of Jonathan Spitz's Charlie, the cricket.
Charlie's novel propulsion system of spinning legs that can be tilted was inspired by one of Jonathan's colleagues. They allow Charlie to traverse difficult terrain as shown in this video:
Charlie is a follow-up design on an earlier robot Jonathan made named Billy, the blue beetle, which was larger and lacked the ability to sprawl. Charlie also was designed to have the ability to drive on its back, which is something Billy could not do. You can read about Jonathan Spitz's experiences with Billy in his LinkedIn post.
1 comment
Post a comment