GPS puzzle box
Posted by
Claire
on 18 March 2015
Forum user Bob Day shared his GPS puzzle box, which uses an A-Star 32U4 Micro, USGlobalSat EM-506 GPS Receiver, servo, and LCD to open a box only at a specific location. It also uses our S7V8F5 step-up/step-down regulator to provide power the A-Star and GPS module. In his post, Bob says that he got the idea from Mikal Hart's "Reverse Geocache Puzzle Box", which you can see in action in this video.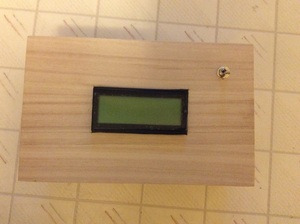 Top of GPS puzzle box by forum user Bob Day.
Pictures, connections, and the code used for the box can be found in Bob's forum post.
0 comments
Post a comment