New product: Addressable high-density RGB LED strip
Posted by
Jon
on 24 September 2014
Last December we started carrying addressable RGB LED strips based on the WS2812B LED driver. Since that driver integrates an LED and a driver into the same package, we were able to offer higher density strips than before.
We are excited to announce that we are now carrying an even higher-density WS2812B LED strip. This strip has 72 LEDs and is 0.5 m long, for a density of 144 LEDs per meter. It is also the shortest WS2812B strip we carry.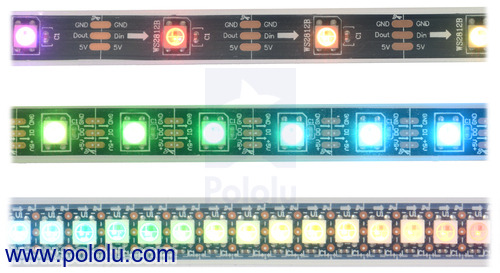 LED side of the WS2812B-based addressable LED strips, showing 30 LEDs/m (top), 60 LEDs/m (middle), and 144 LEDs/m (bottom).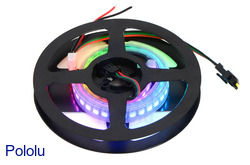 A 1/2-meter, 72 LED addressable RGB LED strip on the included reel.
This LED strip, like the other WS2812B strips we carry, has both input and output JST SM connectors, which make it easy to connect multiple strips together. It is compatible with many popular microcontrollers, and we provide Arduino libraries to help you get started. More information about this LED strip, including how to use it, can be found on its product page.
You can also view our entire selection of WS2812B LED strips.
4 comments
Post a comment