Power Level Indicator for Ghostbusters Proton Gun
Posted by
Arthur
on 19 March 2014
Justin Chase Black (Throwing Chicken) is an artist and long-time laser cutting client who uses laser-cut parts in his prop and replica builds. Every time we ship a laser order to him, I eagerly await a new Facebook post showing off his latest project.
His work is extremely meticulous, skipping no detail in even the tiniest components. One of his more recent projects involves a tiny power level indicator on a "Proton Gun" replica from the movie Ghostbusters. Buying a power level indicator wasn't an option; the ones he could find were made for aviation and cost over $1,000!
With a little trial and error, he was able to make them himself for a fraction of the cost by casting them out of resin, using our laser-cut parts to create the cast. A few of the design attempts did not come out well when cut from 1/8" acrylic since some of the features in the designs were much smaller than the thickness of the material (the design is only around 1/4" wide!). We cut various materials and thicknesses from 0.004" Mylar to 1/8" acrylic and a combination of thinner parts did the trick.
I'll be sharing more awesome projects from Throwing Chicken in the future, but you can also check out his Artist page on Facebook for more updates. If you'd like to purchase a Ghostbusters Proton Gun Replica Kit, they're sold on the Throwing Chicken Etsy shop.
If you have a cool project you're working on and need some laser-cut parts: "Who ya gonna call?" (PO-LOLU!)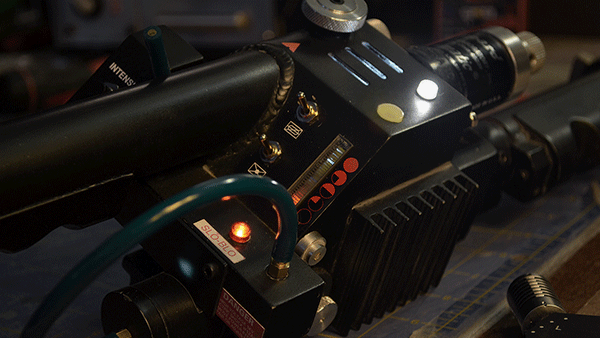 Power level indicator replica for Ghostbusters Proton Gun.
| | |
| --- | --- |
| Vector plans for laser-cut power level indicator replica layers for molding. | Close-up of cast power level indicator replica case. |
| Close-up of cast power level indicator replica case with laser-cut interior layers. | Close-up of finished power level indicator replica. |
| Power level indicator replica with LEDs powered on. | Close-up of power level indicator replica with LEDs powered on. |
| Power level indicator replica installed in the Proton Gun. | Power level indicator replica installed in the Proton Gun with LEDs on. |
0 comments
Post a comment