BCM 120:1 Gear Motor Offset Output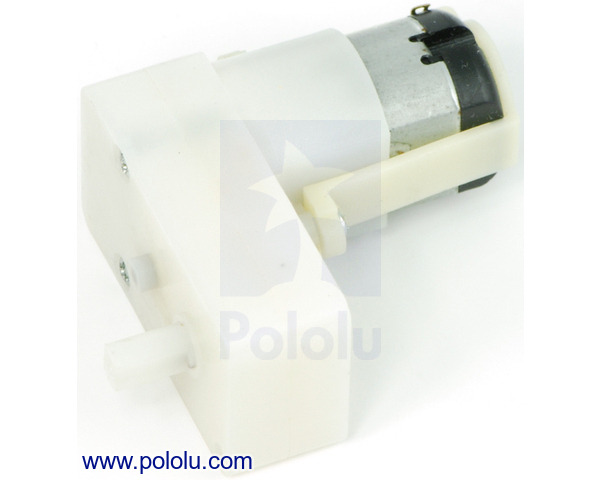 This 120:1 gearmotor (gearbox with motor) is a low-cost way to drive small- to medium-sized robots. It is similar to the Solarbotics offset-output gear motors, but it draws more current and has a higher RPM.
This 120:1 gearmotor (gearbox with motor) is a great low-cost alternative to modified hobby servos or Tamiya gearboxes, and a higher-speed alternative to Pololu plastic gearboxes and Solarbotics gearboxes. This gearmotor comes pre-assembled, with the gears fully enclosed. There are built-in mounting holes that are compatible with the Solarbotics GMB28 mounting bracket, and the output shaft is 5.3 mm in diameter with two sides flattened to a thickness of 3.6 mm. Note that this is smaller than output shafts on the the offset-output Solarbotics gear motors, so Solarbotics wheels are not compatible with these gearmotors.
The BCM wheel is designed to work with this gearmotor.
Note: This gearmotor does not come with mounting hardware, instructions, or packaging.
Specifications at 6 V
Description: Offset/inline
Gear ratio: 120:1
No-load RPM: ~ 80
No-load current: ~ 140 mA
Stall current: ~ 2.2 A
Stall torque: ~ 25 oz-in (1.8 kg-cm)
L x W x H: 55 mm x 48 mm x 23 mm