Wire Stripper 20-30 AWG Solid (22-32 AWG Stranded)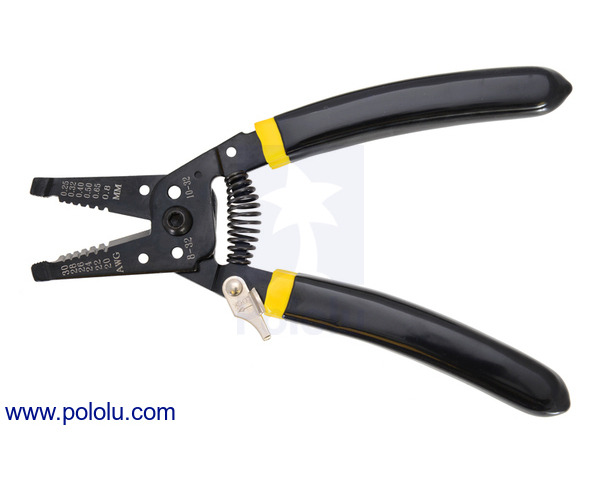 This wire stripper and cutter works with six standard wire sizes from 20 to 30 AWG solid (22 to 32 AWG stranded). It has curved, cushioned handles for added comfort, and the serrated nose can be used to bend and shape wire.
Alternatives available with variations in these parameter(s): wire gauge Select variant…

Compare all products in Hand Tools.
Overview
A wire stripper is an essential tool for any electronics work bench, and this multi-purpose stripper and cutter is our favorite from among the many we evaluated. For convenience, each slot is labeled by both the cut diameter in millimeters and the solid-core wire gauge it can strip (for stranded wire, you should use the slot that is ), and it features a comfortable curved and cushioned grip. The overall tool length is 7.25 inches (18.5 cm).
We have two versions available that together span a combined range of 10 to 30 AWG solid or 12 to 32 AWG stranded:
For separate wire cutters and pliers, see the mini diagonal cutters and mini long-nose pliers.
Details for item #1923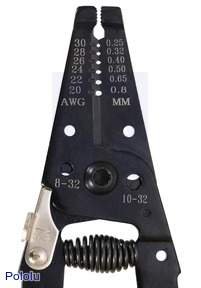 Wire stripper 20-30 AWG solid (22-32 AWG stranded).
Cut diameters (in mm) of the stripping holes: 0.25, 0.32, 0.40, 0.50, 0.65, and 0.8
Works with solid/single-strand wire gauges (AWG): 20, 22, 24, 26, 28, and 30
Works with stranded wire gauges (AWG): 22, 24, 26, 28, 30, and 32
Overall tool length: 7.25″ (18.5 cm)
Note: This wire stripper is not a toy. Not only are the cutting edges sharp, but small pieces of wire can fly off when cut or stripped. Children should use this tool only with appropriate supervision.
People often buy this product together with: