Narobo DroneCell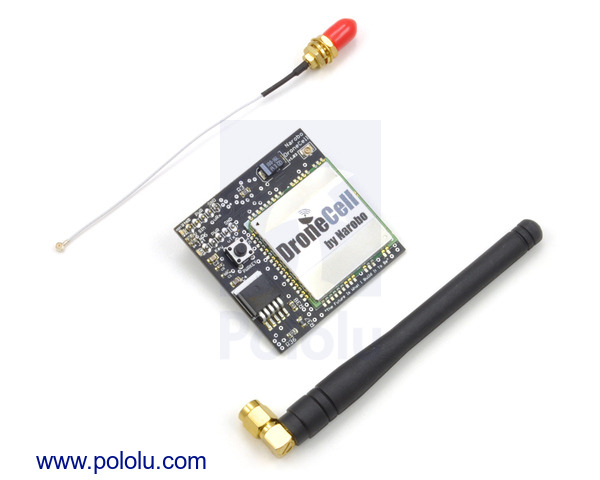 The Narobo DroneCell makes it easy to build wireless projects based on cellular telephone technology. When equipped with an active SIM card (not included), the DroneCell becomes a GSM/GPRS quad-band cell phone with a TTL serial interface, enabling remote control of your project anywhere there is cell phone reception (e.g. control your robot in Los Angeles from your laptop in New York City). It can communicate via text messages (short message service), via phone calls, and over the Internet. The header pins have 0.1" spacing, making this cellular module compatible with standard solderless breadboards and 0.1" perfboards.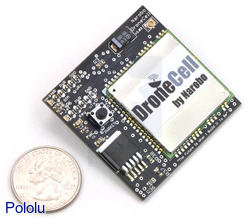 DroneCell with U.S. quarter for size reference.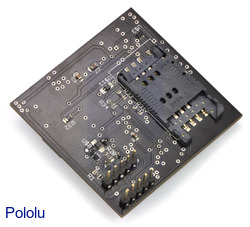 DroneCell, back view.
Overview
The DroneCell by Narobo is a GSM/GPRS quad-band cell phone that supports text messaging (SMS), phone calling, and Internet access (TCP/IP). These features allow the DroneCell to bring a new level of connectivity to your project. For example, your robot could ask your web server for new instructions then text you when it finishes its work. ; if you already have a GSM cell phone with a SIM card, you can use that card to power the DroneCell. Your particular cellphone service plan might only allow you to use a subset of DroneCell's features, and standard cellphone rates apply.
This cellphone module is controlled by a TTL-level (3.3-5V) serial interface using standard ASCII AT commands, which means it can be directly controlled by most microcontroller UART modules. The DroneCell's pre-soldered header pins are spaced like a 10-pin DIP with 0.1" pin spacing, making it easy to use with standard solderless breadboards and 0.1" perfboards.
Narobo provides a Getting Started Guide (93k pdf) and DroneCell AVR C libraries (485k zip) for controlling the DroneCell with an AVR. Please note that there is a error in the getting started guide: on page 4 where it says "AT+CGMS" it should say "AT+CMGS."
Included Antenna
Included with the DroneCell is one Duck antenna with SMA connector, and one SMA to U.FL adapter.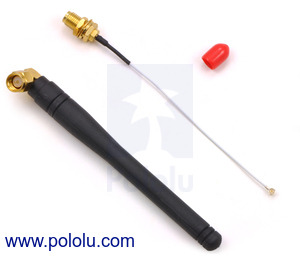 Antenna and antenna adapter included with the DroneCell.
Features
LED indicator for both network status and power
Compact: 1.9 x 1.9 x 0.7" (4.8 x 4.8 x 1.7 cm)
Breadboard and 0.1" perfboard compatible
5-16V input voltage
3.3-5V TTL-serial UART
Configurable serial baud rate (up to 115200 bps)
Quad-band cellular connectivity
Dial and receive phone calls (however, there is no microphone or speaker interface)
Send and receive text messages
Send to and receive data from any Internet-connected computer
Send and receive data over TCP or UDP sockets
Works anywhere with cellphone reception
Cellular to server communication (GPRS) up to 86.5 kbps downlink
Cellular to cellular communication (CSD) up to 14.4 kbps
Videos