Go Labs Mighty Motor EDU-3040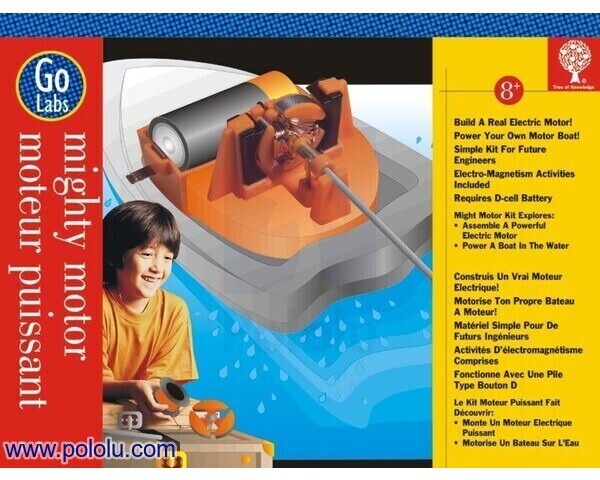 The Go Labs Mighty Motor kit lets you build a DC motor and use it to propel the included boat. Wind your own armature coils and position magnets to explore the link between electricity and magnetism, and its practical application in DC motors.
Description

Specs

(0)

Pictures

(0)

Resources

(1)

FAQs

(0)

On the blog

(0)
The Go Labs Might Motor kit has been discontinued. Please consider one of our other electronic kits.
The Go Labs Mighty Motor kit, part of the Tree of Knowledge science series, lets you build your own brushed DC motor and mount it on the included boat to create a motorboat. The included Mighty Motor manual (645k pdf) illustrates how to build the DC motor and boat: it shows you where to place the two permanent magnets, how to wind wire coils around the armature, and how to connect the brushes to the rotor. The manual also has a detailed explanation of how brushed DC motors works and contains additional electromagnetism experiments. For example, the manual shows how to build a simple magnetic compass.
The only tools required to build the DC motor are a pencil and a pair of scissors. The product box suggests that the Go Labs Mighty Motor kit is appropriate for people ages eight and older.
The Go Labs Mighty Motor is a kit; assembly is required. One 'D' battery is required but not included.