Dagu Wild Thumper Wheel 120x60mm Pair with 4mm Shaft Adapters - Chrome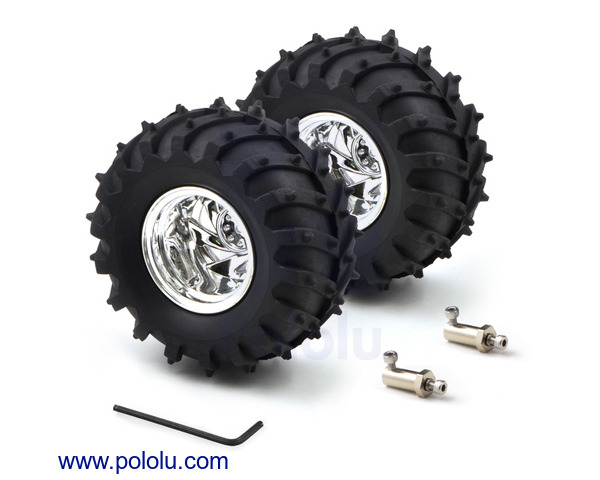 These two large (120mm-diameter) wheels from Dagu Electronics match those on the Dagu Wild Thumper chassis and can be used as replacement parts or for custom robots that need to traverse complex, rugged terrain. The black tires are made of soft, spiked rubber for increased traction, and the plastic hubs are chrome (silver) in color. The included adapters let you easily mount the wheels to motors with 4mm output shafts. These wheels are sold in pairs: you get two wheels, two 4mm adapters, and one 3mm hex wrench that matches the adapter screws.
Alternatives available with variations in these parameter(s): color Select variant…

Compare all products in Wheels, Tracks, and Ball Casters or

Wheels.
- 19 February 2016

This robot, created by theophil on Let's Make Robots, uses a Rover 5 chassis with encoders, a MinIMU, sonar sensors, and a few expansion plates to...

- 26 June 2015

We now have a shorter (20 mm) 12 mm Hex Wheel Adapter for 6 mm Shaft as an alternative to our original 35 mm extended version. These adapters work...

- 9 November 2011

Lithuanian electronics manufacturer 8 Devices built this example rover platform using several items that we carry, including a Pololu Qik 2s12v10...