Elabguy LED-Rainbow-V1B 12-LED Rainbow Bar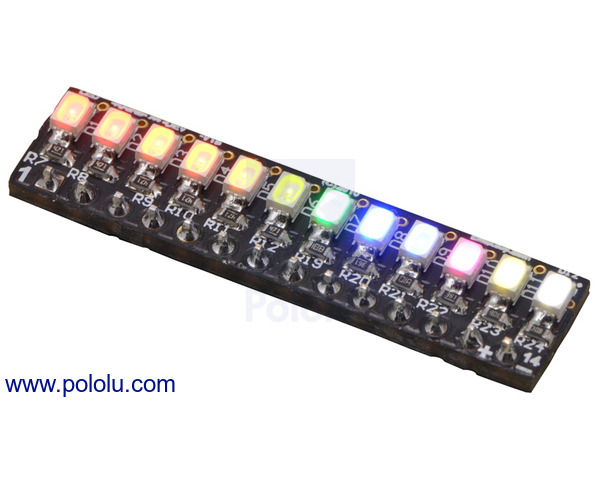 This tiny LED bar features 12 bright LEDs spanning the colors of the rainbow (red, orange, yellow, yellow-green, green, blue, violet, pink, warm white, and white). Each LED is controlled by a separate transistor and has its own appropriate current-limiting resistor, so only simple (and low power) high and low digital signals are required to turn each LED on and off. Bring your project to life with this colorful LED bar!
Overview
This compact board (0.37"×1.5"×0.06") features twelve bright SMT (surface-mount) 3020 LEDs:
red (2)
orange (2)
yellow
yellow-green
green
blue
violet
pink
warm white
white
Each LED is connected to a separate NPN transistor that acts as an on/off switch, so your microcontroller I/O lines aren't required to directly supply the LED currents, and the board contains all necessary current-limiting resistors. A logical "high" signal applied to a control line turns the associated LED on; a logical "low" turns the LED off. To use the board, you just need to connect power (the recommended operating voltage is 5 V), ground, and LED control signals. No external components are needed. With all LEDs on, the board draws approximately 45 mA at 4 V and 75 mA at 5 V. Using voltages above 5 V will make the LEDs brighter but could also shorten their lifespans. The LEDs are already quite bright at 5 V.
The LED-Rainbow-V1B includes an uninstalled 14-pin 0.1" male header strip that can optionally be soldered to the board for use with standard perfboards and solderless breadboards, or you can solder wires directly to the board's pins for more compact installations.
Example Applications
Audio equalizer display
I/O tester
Temperature indicator
Speedometer
Robot user interface element
This easy-to-use board is a great way to enhance any project with colorful lights!
You can use the Mini Maestro 12 to control this LED bar from a computer via USB or from a microcontroller via TTL serial, or you can use the Mini Maestro as the main controller by taking advantage of its internal scripting ability.
People often buy this product together with: