120:1 Mini Plastic Gearmotor, Offset 2mm Spline Output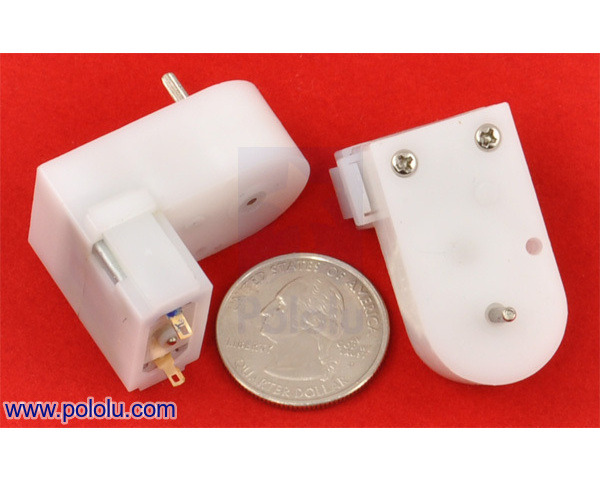 This compact, inexpensive, low-current gearmotor (brushed DC motor with a 120:1 reduction gearbox) is well suited for use in small robots. At 4.5 V, it has a free-run speed of 120 RPM and a stall torque of approximately 20 oz-in (however, the built-in safety clutch might start slipping before the stall torque is reached). The splined output shaft has a crest diameter of 2 mm and is offset from but parallel to the motor shaft. Though the product picture shows two gearmotors, this product is for a single motor.
Compare all products in Mini Plastic Gearmotors.
Dimensions
| | |
| --- | --- |
| Size: | 36.5 x 20 x 27.4 mm1 |
| Weight: | 19 g |
| Shaft diameter: | 2 mm2 |
General specifications
| | |
| --- | --- |
| Shaft type: | offset 2mm spline |
| Typical operating voltage: | 4.5 V |
| Gear ratio: | 120:1 |
| No-load speed @ 4.5V: | 120 rpm |
| No-load current @ 4.5V: | 80 mA |
| Stall current @ 4.5V: | 800 mA |
| Stall torque @ 4.5V: | 20 oz·in3 |
| Extended motor shaft?: | N |
Notes: