1. Overview
The G2 family of dual high-power motor driver shields features pairs of discrete MOSFET H-bridges designed to drive two large brushed DC motors. They have the form factor of an Arduino shield, so they can plug directly into an Arduino or compatible board, such as the A-Star 32U4 Prime, but they also break out all of the motor driver pins along the left side of the board to enable use as a general-purpose motor driver without an Arduino. Four versions are available so you can pick the one with the appropriate operating voltage range and output current capabilities for your project:
The minimum operating voltage for all four versions is 6.5 V. The maximum operating voltages are given in the above table; they are well above what typical Arduinos can tolerate, so the shields include an integrated 7.5 V, 1 A switching step-down regulator that can optionally be used to power whatever Arduino or Arduino-compatible board it is plugged into, enabling operation from a single power supply. This regulator can also be configured to output 5 V for applications where that would be more useful than the default 7.5 V, and the Arduino pin mappings can all be customized if the defaults are not convenient.
Features and specifications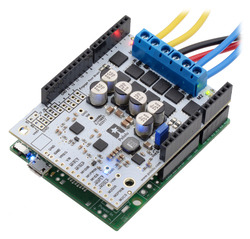 Pololu Dual G2 High-Power Motor Driver Shield being controlled by an A-Star 32U4 Prime.
Operates from 6.5 V to 30 V (18vX) or 40 V (24vX), depending on the version of the shield
Inputs compatible with 1.8 V, 3.3 V, and 5 V logic
PWM operation up to 100 kHz
Motor indicator LEDs show what the outputs are doing even when no motor is connected
Active current limiting (chopping); default threshold depends on the version of the shield and can be adjusted lower by adding a resistor
Reverse-voltage protection
Undervoltage shutdown
Short circuit protection
Control interface allows for sign-magnitude or locked-antiphase operation
Integrated 7.5 V, 1 A switching step-down voltage regulator (can be set to output 5 V instead)
Can be used with an Arduino or compatible board (through shield headers) or other microcontroller boards (through 0.1″ header along the left side)
Arduino library makes it easy to get started using this board as a motor driver shield
Arduino pin mappings can be customized if the default mappings are not convenient
When used as a shield, the motor power supply or 7.5 V regulator output can optionally be used to power the Arduino base for single-supply operation