1. Overview
We use the Silicon Labs CP2102 USB-to-UART Bridge Controller in several of our products to provide USB connectivity while communicating via a simple serial protocol. It is the key component of our Pololu USB-to-serial adapter: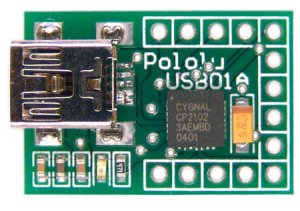 Pololu USB-to-serial adapter with CP2102
and is also used in our Orangutan USB Programmer, USB 16-Servo Controller, and Orangutan X2. These CP2102-based products feature a mini-B connector, so you will need a USB A to mini-B cable to connect them to one of your computer's USB ports. Once the appropriate drivers are installed for your system, the CP2102 will look like a standard serial port. This document provides you with the necessary drivers along with installation instructions.