These Pololu products all use Silicon Lab's CP2102 USB-to-UART bridge controller.
Compare all products in this category
Subcategories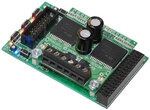 The Orangutan X2 is the most powerful member of our Orangutan robot controller line. It is available with the VNH2SP30 or VNH3SP30 motor drivers and with or without a 4-line x 20-character LCD.
---
Products in category "Pololu Products That Use the CP2102"
The Pololu USB-to-serial adapter is a tiny unit that makes it easy to connect a microcontroller project to a PC. You can connect the adapter directly to a microcontroller without an RS-232-to-TTL level converter. It is USB 2.0-compatible and will work with your existing programs that interface with a serial port.
The USB servo controller enables you to control up to sixteen hobby RC servos from your USB port. The servo controller has both the USB interface and a UART interface for communicating with small microcontrollers and other non-USB devices.
This compact programmer can program the Orangutan, Orangutan SV-168, Orangutan LV-168, and Baby Orangutan robot controllers, as well as the 3pi robot, through a USB connection. The on-board USB-to-serial adapter allows the unit to look like a serial AVRISP programmer to your programming software. The serial port TX and RX lines are connected to separate pads so that the programmer can also be used as a USB-to-serial adapter.