6.b. Using a Terminal Program
There are many free terminal programs available which are capable of sending and receiving bytes on a virtual COM port. These programs include PuTTY (Windows or Linux), Tera Term (Windows), and Br@y Terminal (Windows). Advanced users developing scripted applications may prefer the free terminal program kermit. To use any of these terminal programs with the Wixel, you must specify the port name (see Section 6.a) and the baud rate. The baud rate may or may not affect anything; see your application's documentation. The characters you type will be transmitted on the programmer's TX line. Bytes received by the programmer on the RX line will be displayed on the screen by the terminal program.
Typical terminal programs will allow you to choose several other settings besides the baud rate. If you are not sure what settings to use, then you should pick 8 data bits, 1 stop bit, no parity, and no flow control.
Typical terminal programs will not allow you to use the serial control signals, but Br@y terminal does. You can click the "DTR" and "RTS" buttons to change the state of the DTR and RTS signals. The state of the CTS, CD, DSR, RI, DTR, and RTS signals are indicated by the colors of the corresponding buttons.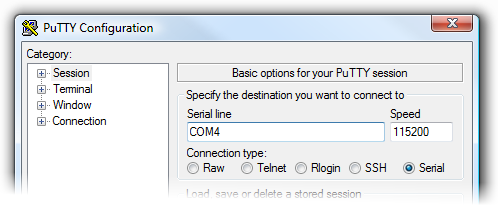 PuTTY is a free Windows terminal program that can send and receive bytes on a serial port.
If you need to send and receive non-ASCII bytes, you can use the Pololu Serial Transmitter Utility for Windows or Br@y Terminal.