Customer Laser Cutting Gallery
View document on multiple pages.
1.
Laser-cut ABS in replica light sabers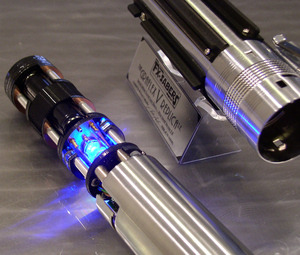 Internal assembly of saber handle showing stacked laser-cut parts.
These light sabers made by Michael Murphy illustrate how two-dimensional laser-cut parts can be stacked to create three-dimensional pieces. If you look closely at the black cylindrical parts in the light saber handle, you can see that some of them are assembled from two-dimensional circular parts (similar to the ones shown in the layout on this page) that we laser cut from sheets of ABS plastic.
ABS is a relatively strong plastic that resists cracking, so it is appropriate for mechanical parts that need to withstand some stress or impact. We stock black ABS in several thicknesses: 1/4", 3/16", 1/8", and 1/16". If you are mainly concerned with how a part looks, or if your part does not need to be particularly sturdy, you might consider using acrylic instead: it is protected with paper masking, it comes in a variety of colors, and it is cheaper to laser cut.
To get started with laser cutting your own parts, see our custom laser cutting service page.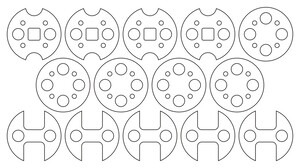 Layout for laser cutting stackable parts.
2.
Laser-engraved wood handgun case
Laser engraving is a great way to personalize anything, including a handgun case, as shown here.
We raster-engraved this walnut handgun case using the red "Colt" logo shown below. During raster engraving, the laser burns away a very thin layer of material to create a recessed area in the specified shape. Since the laser is burning the material, the wood might get darker or even charred depending on the type of wood and any stains, glues, or other chemicals that have been applied to the wood. In this case, the laser roughened the surface a bit but did not leave it looking charred.
If you are concerned about charring, you can always start by having us engrave a small sample, first. You might also be able to remove some of the charring by sanding. Note that many plastics including acrylic/Plexiglas do not char from the laser
| | |
| --- | --- |
| | Image file used to laser-engrave a wooden handgun case. |
When laser engraving a prefabricated piece such as this handgun case, we align the engraving by eye; although the logo might look well-centered, it could be off by a few millimeters (or even more) in any direction, depending on the details. Alignment is not an issue if we are also laser cutting the edges of the part.
Please also see our example of laser-cut wood, which also illustrates some laser charring. To get started with laser cutting your own parts, see our custom laser cutting service page.
3.
Three-dimensional laser-cut chandeliers
While our laser cutting machines can only cut two dimensional parts, there are easy ways to make three-dimensional designs out of flat, laser-cut parts. A simple way to achieve this is to create slots in the vector design to allow the two parts to slide together perpendicular to one another. Some may remember this technique from childhood arts and crafts. This easy tweak allows parts to be easily assembled and disassembled.
These Chandeliers by Nicole Ketchum were created using our 3 mm acrylic with a slot width of 1/8″. You can adjust the width of the slot depending on how snug you would like them to fit. Since Nicole's design is meant to be hung, a really snug fit was not needed.
Here are some things to keep in mind when getting started with your laser-cut design

All acrylic stocked at Pololu uses a metric thickness (1/8″ is actually 3 mm, 3/16″ is 4.5 mm, etc) and can vary by up to 10%.
All slots will be slightly wider than the dimensions in your vector/CAD file due to the laser's kerf, or beam width. Our machines have a kerf of approximately 0.007″, but we do not necessarily guarantee any particular tolerance. If you would like to offset your lines for cutting, please be sure to take care of this before sending your file in for a quote.
Acrylic can be prone to cracking along corners. Adding a radius to your 90 degree corners helps reduce the risk of cracking.