Our Black Friday/Cyber Monday Sale has started!
Posted by
Emily
on 23 November 2021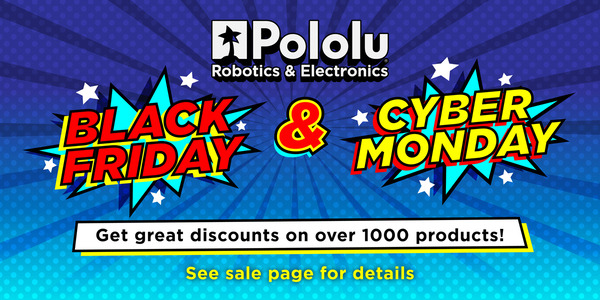 Our Black Friday / Cyber Monday sale is back! Visit the sale page to see all the available deals and add the necessary coupons to your cart, including special discounts on the new Zumo 32U4 OLED robots we released earlier today. The sale runs through Monday, November 29, and most of the sale coupons can be used on backorders if we happen to run out of stock, but you should still get your orders as soon as possible since production of many items is limited by the global parts shortages, and lead times to make more can be long.
Please note that during the sale, our order fulfillment times might be longer than usual, but we will do our best to get your order shipped as fast as we can. Additionally, we are closed Thursday, November 25 for Thanksgiving. Happy Thanksgiving!
0 comments
Post a comment