Performance graphs for our Micro Metal Gearmotors
Posted by
Ben
on 5 April 2018
After spending many months conducting thousands of motor tests, we are excited to finally publish performance graphs for our micro metal gearmotors (5MB pdf). In some sense, this datasheet is the culmination of a decade of work to improve our processes and better characterize our gearmotors, and we have come a long way since those early tests clamping motors in vises and making them lift ever heavier bags of steel bearings. Here is one of the setups we are using now: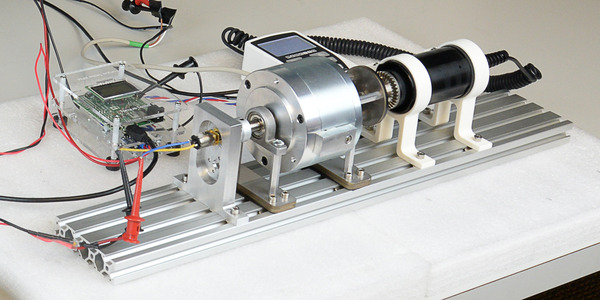 Micro metal gearmotor undergoing dynamic performance testing.
The key thing is to be able to apply a measurable, variable load while the motor is spinning, which we do via an electromagnetic brake coupled to a torque meter. A combination of programs running on an A-Star 32U4 Prime test controller and a PC automatically sweep the load through a sequence of points while measuring parameters such as speed, current, and torque (plus internal test rig currents, voltages, etc).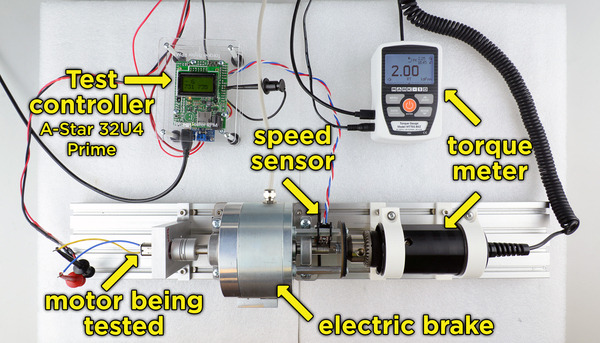 Micro Metal Gearmotor performance test setup.
These performance characterizations are the latest example of our continued commitment to being the best source for this popular form factor of gearmotor. You might see similar-looking motors elsewhere, but no one comes close to our offering, from the quality of the gears to our exclusive long-life carbon brush options to the overall breadth of our selection (over 100 versions!), all in stock for shipment the day you order.
Please note that we are still in the process of updating the specifications on our website to match new, more accurate data from the performance graphs, so if you notice discrepancies between what is in the datasheet and what is on the product page, go with the datasheet.
If you have any questions or feedback about these graphs or if there is additional information you would like to see available for our motors, please feel free to contact us (or just leave a comment below). And if you are wondering about graphs for our larger gearmotors, don't worry, those are coming! (If you need something before those datasheets are done, just let us know and we might be able to get you preliminary data for a particular gearmotor.)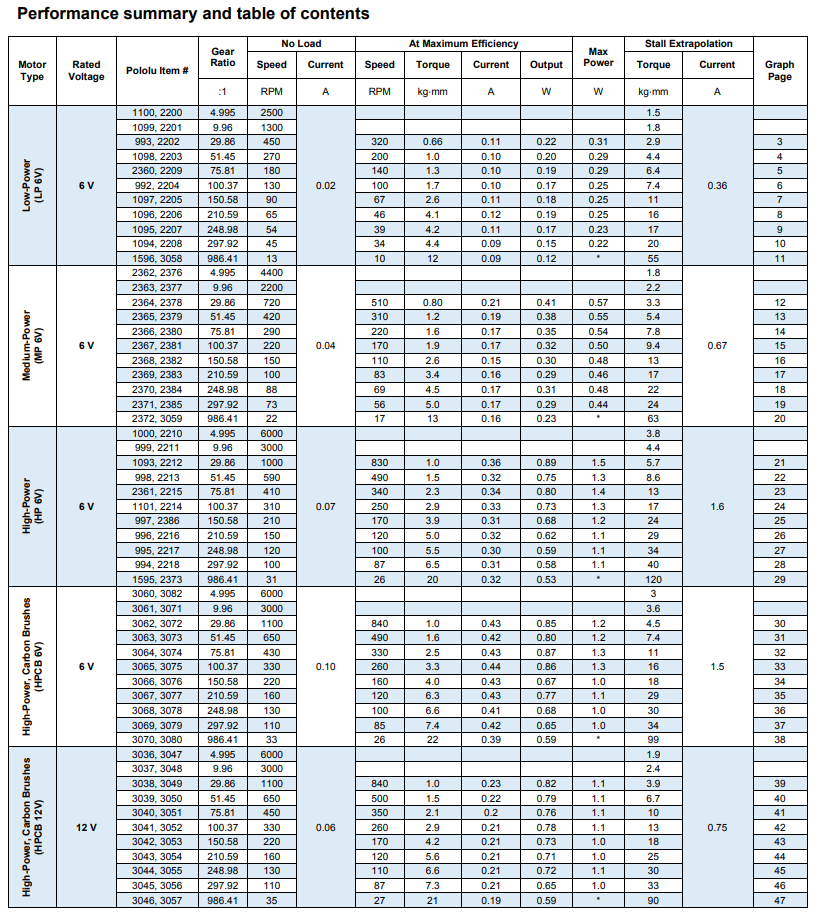 Performance summary table from Micro Metal Geamotor datasheet.
2 comments
Post a comment