The Purdue Tuggiteers' spring 2015 senior design project
Posted by
Jon
on 11 December 2015
For their senior design project in the spring semester of this year, a team of Mechanical Engineering students (the Tuggiteers!) from Purdue made a remotely-controlled plane-towing vehicle that uses one of our step-up/step-down regulators. The team shared with us this video of their final review, which demonstrates the vehicle approaching, connecting to, and towing a single-engine aircraft:
This next video captures their vehicle's first test. An on-board camera allows you to get a 1st-person view of the latch actuating and gripping the aircraft wheel:
We are always excited to see our parts getting used in cool projects, and we were especially excited to see this because it looks way easier than doing it the usual way: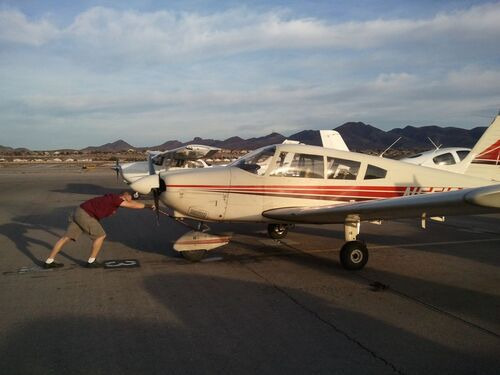 Ben, pushing a plane (before he started Crossfit).
4 comments
Post a comment