RC multiplexer for quadcopter operator mode switching
Posted by
Ryan
on 24 February 2017
One of our customers, "Bartman" on the dronevibes.com forum, has made a video of himself planning his build and a forum post that explains how he built his quadcopter. He was inspired by the DJI Inspire 1, which raises its struts to get them out of the camera's way. Bartman proposes a lighter and cheaper arrangement: when flying the quadcopter in its semi-autopilot "carefree" mode, he switches yaw control from the pilot to the camera operator. This gives the camera operator panning (via the entire copter's yaw motion) without the need for a separate panning mechanism. He uses a Pololu RC multiplexer to achieve the control switching.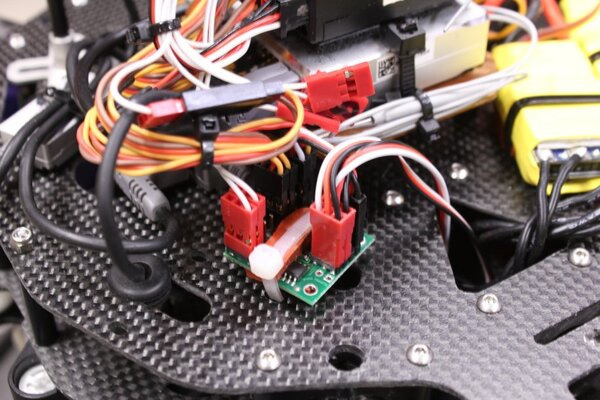 A close-up of the RC mux on Bartman's multi-rotor.
More details and discussion are in the forum thread.
0 comments
Post a comment