Ten years in Las Vegas
Posted by
Jan
on 5 June 2012
Starting with the move from our dorm to an apartment in Watertown, Massachusetts, Pololu has moved or expanded ten times. The most significant was our move to Las Vegas, which represented a commitment to doing this thing for real. This past Sunday was the 10-year anniversary of arriving in Las Vegas, so I figured I should commemorate it by putting up some old pictures.
Back then, Pololu was basically Candice and me, with some occasional remote help from Paul, who had not had enough of school yet. None of us had any connection to Las Vegas, but we wanted to avoid the cold, natural disasters, and oppressive government. With the added benefit of cheap housing, Las Vegas seemed like an easy place to at least try out. So, at the end of May 2002, we sold most of our stuff, mailed several boxes of stuff to an apartment we had found online, and crammed the rest of our stuff into a small Honda hatchback for a four-day drive across most of the continent.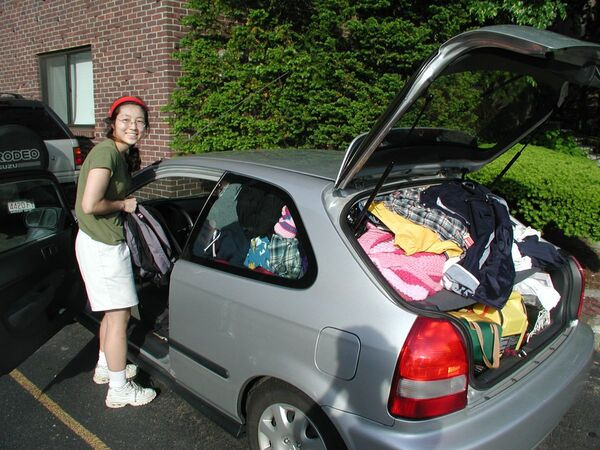 Leaving Watertown, MA on 30 May 2002.
We actually fit quite a bit of stuff into that car, though having the passenger seat as far forward as possible made the trip rather uncomfortable. Note the soldering iron and power supply in the foreground.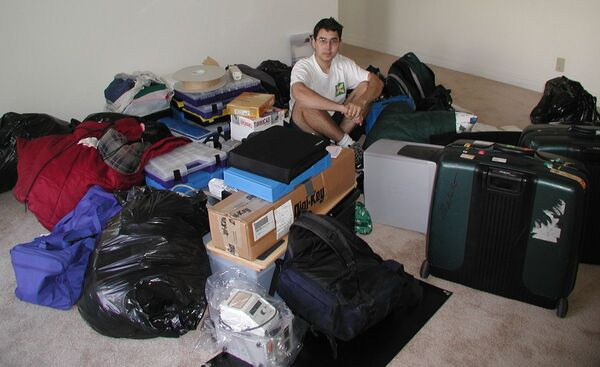 First day in Las Vegas, 3 June 2002.
In those days, we did not even have orders every day, so eight orders in one day was a big deal.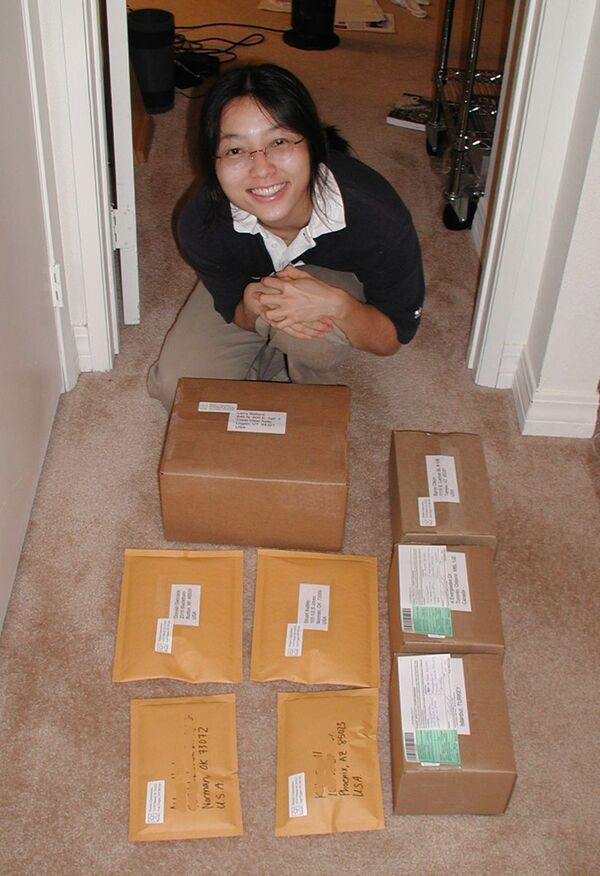 Eight orders in a day used to be a lot.
We kept track of which states we shipped orders to. (We had a world map for tracking countries, too.)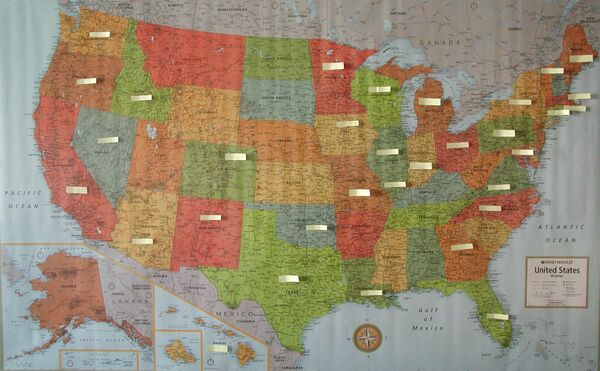 Early on, we kept track of the states to which we had shipped orders.
At the end of 2002, we moved to a house; we ran Pololu out of it for all of 2003. We got our first laser cutter in 2003 and had it running out of the kitchen with the exhaust duct blowing into the back yard. Unfortunately, I can't find a picture of that or much else from 2003.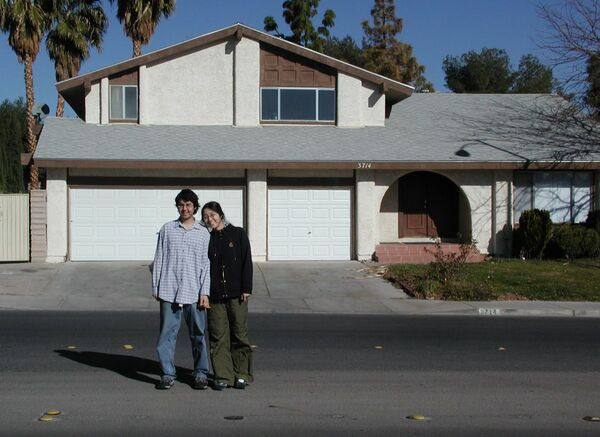 We operated Pololu out of our house for all of 2003.
By late 2003, it became clear that we had to move to a commercial space. First, we apparently were not allowed to have employees in our house, and second, we needed a space in which we could better run electronics production equipment. Our first commercial space, which we moved to in early 2004, was a little under 1,500 square feet, split about evenly between one big office space and a warehouse.
Soon after we moved there, we started holding LVBots meetings at our office, which we still do today.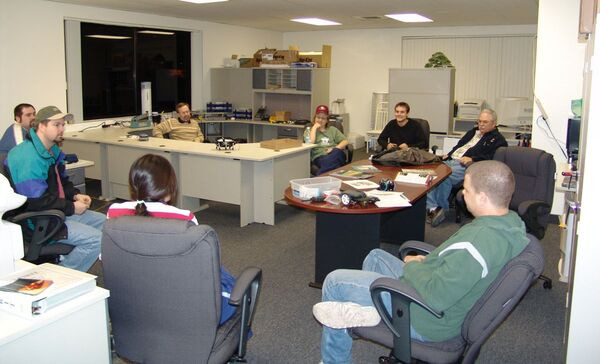 Probably the first LVBots meeting on 22 February 2004.
Paul occasionally visited to help set up computer and web stuff and to see what we were up to.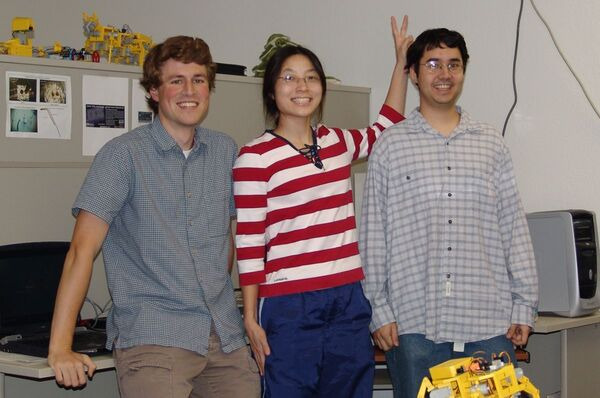 Paul, Candice, and Jan in April 2004.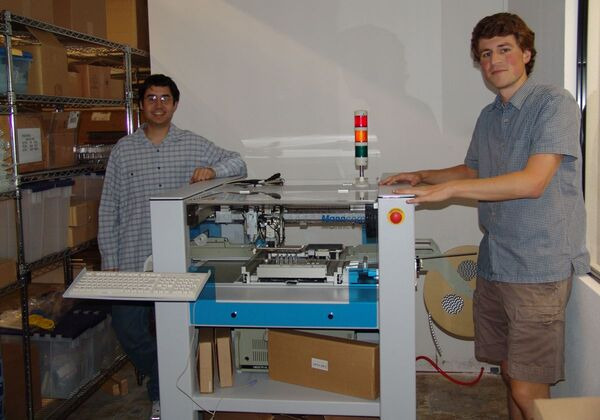 Checking out the new pick and place machine in April 2004.
We have not bothered putting up signs at our last two locations, but for our first real location and with our own laser cutters, it seemed like the appropriate thing to do.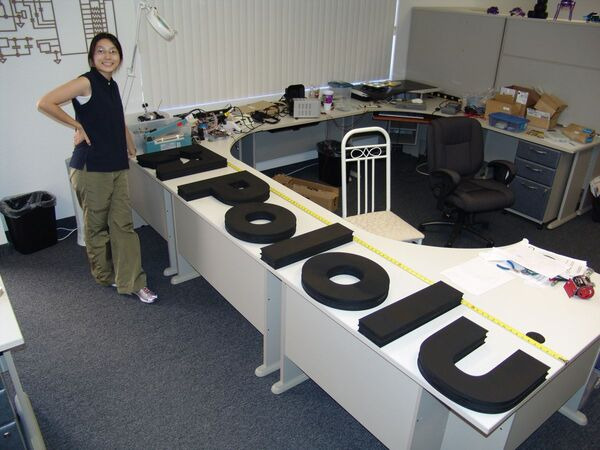 Sign parts laid out in the office, June 2004.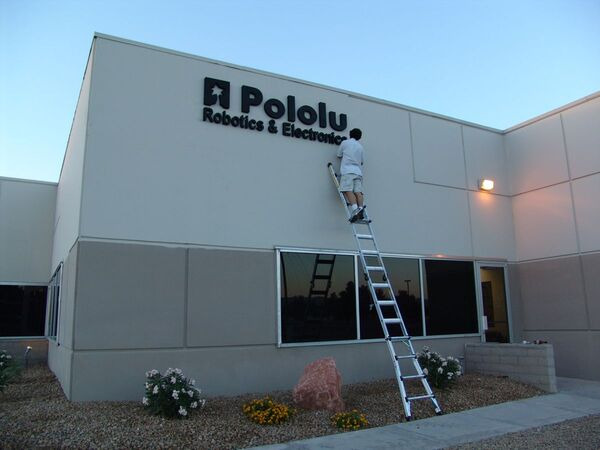 Jan putting up sign number 1, June 2004.
We were excited enough about it that with our corner location, we put up two signs.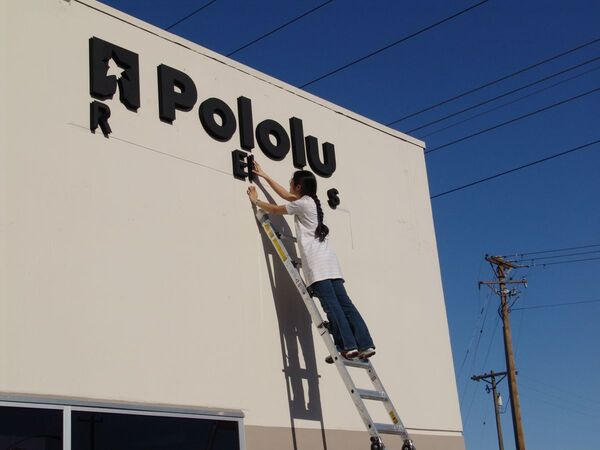 Candice putting up sign number 2, June 2004.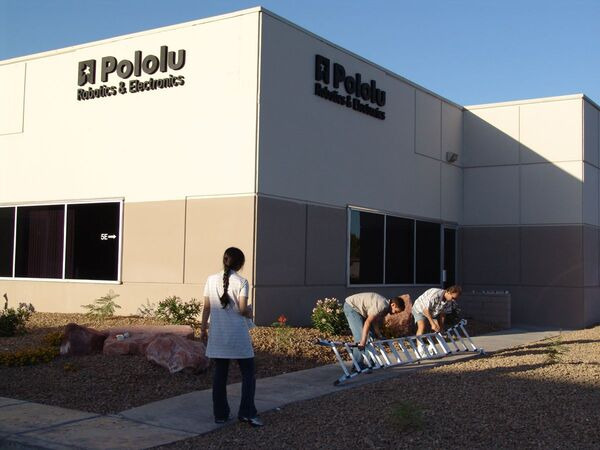 Signs on first Pololu commercial space, June 2004.
In that first year operating from a commercial space, we went to events like Robothon, where our table was right next to SparkFun's.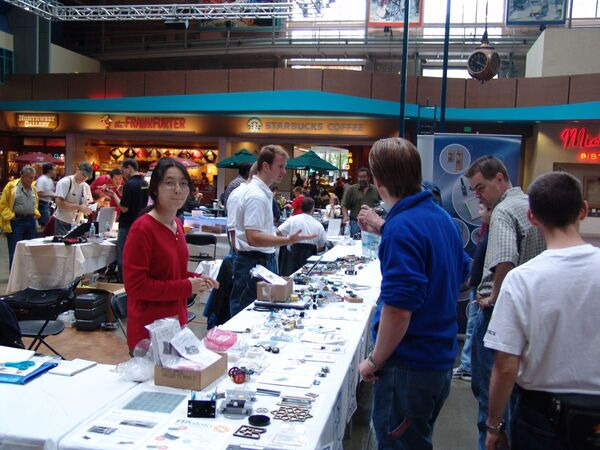 Robothon booth, September 2004.
In late 2004, we moved to a larger suite in the same office park. It worked out well because the move was only a few hundred yards, so we could just pull our machines there on pallet trucks. Our neighbors to both sides happened to move out with good timing so that we gradually expanded over most of the building, from 3,000 square feet to 7,500. Candice and I got individual offices and a separate lab space, but office pictures all look mostly the same. Here's a shot of our warehouse at the end of 2006: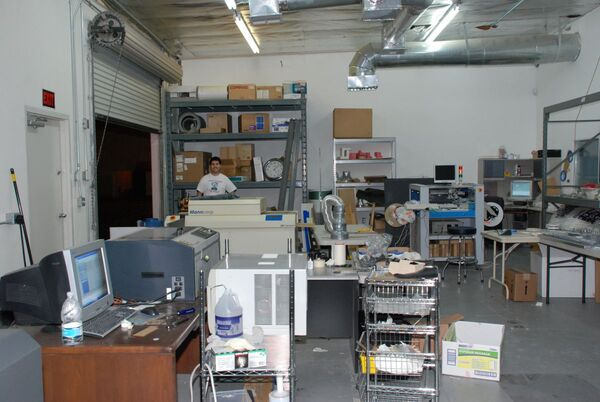 Suite 12-D warehouse, last day of 2006.
Ben, my best friend from high school, moved to Las Vegas around then to join the company.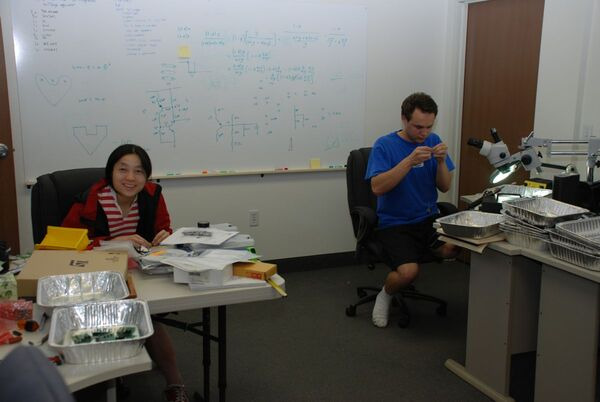 Candice and Ben in Suite 12-D lab, May 2007.
Meanwhile, Paul was finally finishing up his Ph. D. in a different kind of lab.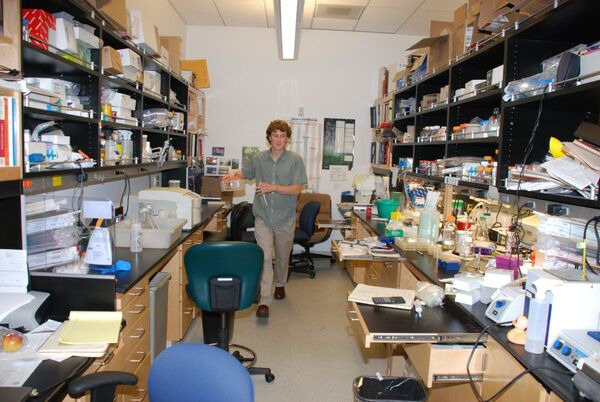 Paul in Caltech lab, February 2007.
He and his wife finally joined us full time in the summer of 2007.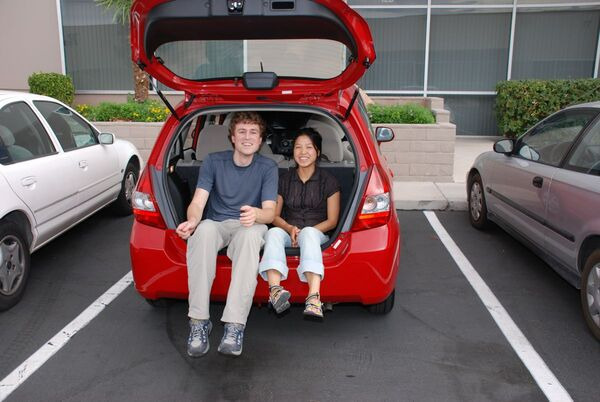 Paul and Fang, August 2007.
By the end of 2007, there were almost 15 of us.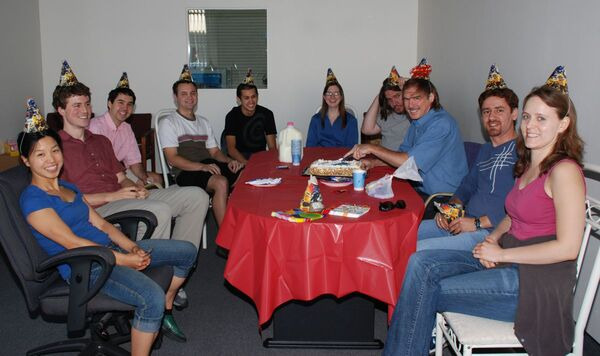 Birthday party, October 2007.
I said the office pictures basically look the same, but this building picture is a little special. One day of snow in ten years was about right. Right now, that's the last building on which we had a sign. After we scraped the two signs off the first building, we had enough good parts for one sign. With the hassle of putting up and removing signs, the rate at which we were moving, and our limited local business, it hasn't seemed worth it to put up a sign again.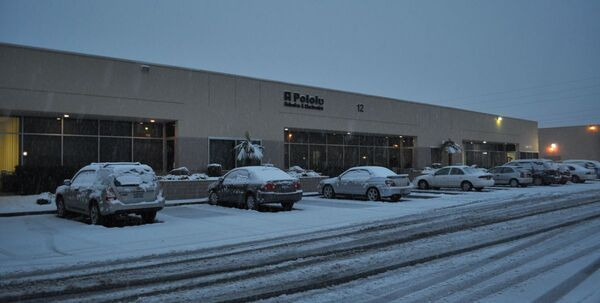 Snow on 17 December 2008.
And, just to have one recent picture for comparison, here we are, working hard at our most recent Christmas party in our new building (there are some pictures of our current space here and here). The break room is larger than our first office space.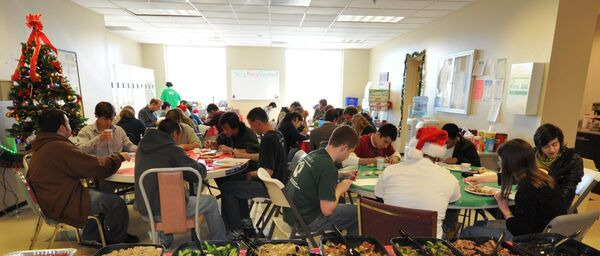 Pololu Christmas party 2011.
12 comments
Post a comment