Happy Thanksgiving from Pololu!
Our Black Friday/Cyber Monday sale is back! We are offering huge discounts on hundreds of products and upgrading you to the next best price break for everything else, and we are offering free bonus items with orders over $100 (excluding shipping). The special offers become active Wednesday morning (November 25) at midnight PST (3:00 AM EST/08:00 UTC), and the sale runs through Cyber Monday (November 30), ending at 11:59 PM PST. We hope these deals give all you robotics and electronics enthusiasts out there a happy start to the holiday season!
How it works
Note: All discounts will appear in your cart. If you do not see a discount you expect, you are not doing it right! For example, if you are expecting a free T-shirt for the $200+ promotion, you still need to pick a T-shirt, add it to your cart, and add the right coupon to your cart. If the shirt is not in your cart, it is not in your order. If the shirt does not show up as $0.00 in your cart, it will not be free.
To take advantage of the sale, you must make your purchases directly from this web site during the sale period. All discounts are obtained through coupon codes, and most of them have quantity restrictions. To access the discounts, just add the coupons to your cart along with the items you want to purchase. You can add all of the sale coupons to your cart automatically with the following link (unused coupons will be ignored at checkout):
Alternatively, you can click the individual coupon links in the sale item list below to add the specific ones you want to use, or, if you are especially fond of typing, you can enter the codes manually at the bottom of the shopping cart page. You are welcome to set your cart up before the sale by adding the coupons and products you want in advance (your cart will automatically be saved).
We are expecting a high volume of orders from this sale, so our usual same-day shipping service will not apply until we catch up, and we are closed Thursday (November 26) for Thanksgiving, so no orders will ship that day. We will do our best to get your orders out as quickly as possible! We might run out of stock of some of our more popular items, but you will be able to backorder most products at the sale prices, and we will be working hard to keep our stock levels up during the sale.
Please see the bottom of this page for additional disclaimers.
Price break upgrades
We are unveiling a new kind of discount this year: price break upgrades. Most of our products have listed quantity price breaks beyond single-unit pricing, and this feature lets you get this higher-quantity pricing at lower quantities. To see how it works, consider the following example: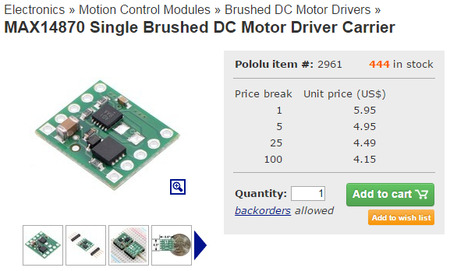 Standard pricing for Pololu item #2961.
With a single price break upgrade, you would get 1-4 units at the 5-piece price of $4.95, 5-24 units at the 25-piece price of $4.49, and 25 or more units at the 100-piece price of $4.15. With two price break upgrades, you would get 1-4 units at the 25-piece price, and 5 or more units would get the 100-piece price. With three price break upgrades, you would get the 100-piece price at any quantity.
Some of the sale coupons listed below provide two or three price break upgrades on specific categories of products, like DC motor drivers, and the BF15PBUPGRADE coupon gives you one price break upgrade on every product in the store for the duration of the sale, which will let you save on products not already discounted by better coupons. Note: The price break upgrade coupons cannot be combined with other coupons for the same product.
Free bonus items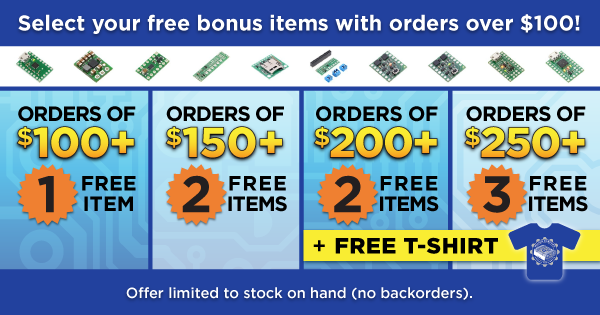 Order over $100 and get your choice of products from our Black Friday Sale Bonus Items category (while supplies last):
| Offer | Order Subtotal | Coupon Code |
| --- | --- | --- |
| 1 free item | $100 – $149.99 | BF15FREE1 |
| 2 free items | $150 – $249.99 | BF15FREE2 |
| 3 free items | $250 or more | BF15FREE3 |
Orders over $200 are also eligible for a free Pololu T-shirt with coupon code BF15TSHIRT (while supplies last). Note: Qualifying order totals exclude shipping and the value of the bonus items and T-shirt. For example, your order total must still be over $200 with the $9.95 price of the T-shirt excluded for the T-shirt to be free.
Discounts off specific products
Below is a list of all of the products and product categories involved in the sale. For information about each product, please follow the link to the product page.
Robots and programmable controllers
Motion control modules
Sensors
Power supplies
Mechanical parts
Electronics prototyping
LEDs
T-shirts
Pololu T-Shirts
get one FREE with orders over $200!
Regular price: $9.95
Coupon code: BF15TSHIRT
While supplies last. To take advantage of this offer, you need to add the shirt you want to your cart (this coupon does not add a shirt automatically). This coupon will reduce the price from $9.95 to $0 when the order subtotal is greater than $200.
Disclaimers: These coupons can be combined to save on multiple products in a single order, but multiple coupons that apply to the same product cannot be combined; the one that gives the larger discount will automatically be applied. When multiple coupons can apply to the same item, the various discounts could appear on the line item description even if only one coupon applies. For instance, a $10.00 item with a coupon making it $9.00 and a 15% off coupon could show both the $1.00 discount and the $1.50 discount, but the final price will be $8.50 since only the bigger discount will apply.

Some coupons impose quantity restrictions that are intended to be "per customer"; if a customer places multiple orders in an attempt to get around coupon quantity restrictions, we will cancel all but the initial order. It is acceptable to use the same coupon in multiple orders in a way that does not violate its per-customer quantity restrictions.

The percentage-off coupons are discounts relative to the applicable retail price break (before any relevant price-break upgrade coupons are applied). Our "doorbuster" coupons will expire after a set number of uses and are only active for specific days, but all other coupons will be active for the entire duration of the sale. The coupons can be applied to backorders if a sale item runs out of stock and is backorderable; if an item is not backorderable, discounts will be limited to available stock.