Tamiya 71118 Rhinoceros Beetle - 2-Channel Remote Control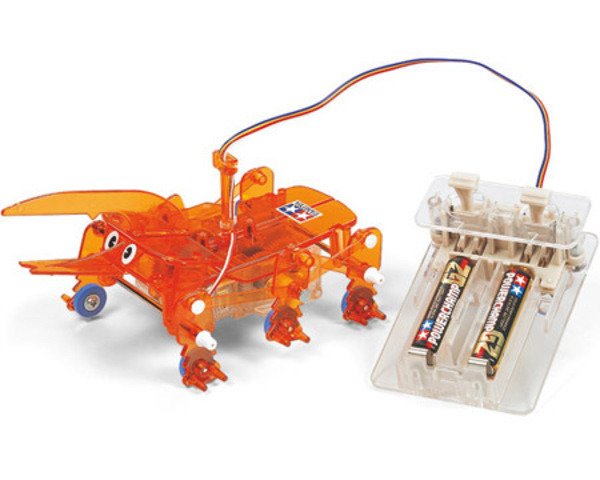 Take control of this six-legged walking Rhinoceros Beetle robot via the included 2-channel remote controller. The two controller sticks operate separate gearboxes, enabling forward/reverse, and left/right movement.

Compare all products in Tamiya Robocraft Series or

Tamiya Robot Kits.
How it works
The Rhinoceros Beetle is equipped with two gearboxes, one that controls the right legs and one that controls the left legs. While working in the same direction, the gearboxes allow your robot to move forward or backward. While working in opposite directions, the gearboxes allow your robot to turn right or left. The remote control allows you to control the two gearboxes; each lever controls one gearbox. After some practice, you will be able to make your beetle go anywhere you want.
The beetle's legs are connected by plastic linkage rods that produce a six-legged walking gait when the motors are running. The horned head parts are linked to the right front leg, which causes them to move up and down as the beetle walks. The Rhinoceros Beetle's body is made from a transparent orange ABS resin that allows you to see all of the motors, gears, cranks, and linkage rods in action.
Compete with friends using three types of horns
This kit includes 3 types of horns that are interchangeable. If you have a Stag Beetle or another Rhinoceros Beetle, you can enjoy head-to-head games such as wrestling and soccer! The following video shows a Rhinoceros Beetle wrestling with a Stag Beetle: rhino_vs_stag.mpeg (7MB mpeg).
Note: This is a kit. Assembly requires using a screwdriver and snapping parts together. No soldering is required. A screwdriver is included. Requires two AA (a.k.a. R6 or UM3) alkaline batteries (sold separately). Run on flat, smooth surfaces; avoid running over slopes, on bumpy roads, or on thick carpet.
People often buy this product together with: