Tamiya 71102 Mechanical Kangaroo - Two Leg Jumping Type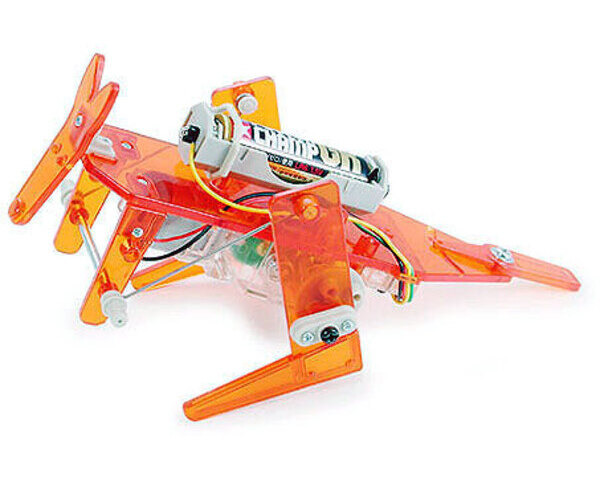 This kangaroo-robot hops forward by kicking its rear legs simultaneously. When walking slowly, it relies on its front legs, and when running quickly, it moves upright, using its tail for balance.

Compare all products in Tamiya Robocraft Series or

Tamiya Robot Kits.
Description

Specs

(0)

Pictures

(4)

Resources

(0)

FAQs

(0)

On the blog

(0)
How it works
A gearbox connected via crank plates to the kangaroo's rear legs transforms motor rotation into walking/hopping. You can choose between two different gear ratios for the gearbox assembly.
When using the high-speed gear ratio, linkage rods should be attached to the lower holes of front legs and kangaroo hops upright while balancing on its tail. Changing the position of the tail allows the kangaroo to keep balance during high-speed running and enables it to change direction. Putting the tail straight will make the kangaroo go straight while setting it to the right/left will make the kangaroo turn to the right/left.
When using the low-speed gear ratio, linkage rods should be attached to the upper holes of front legs and the kangaroo walks on all fours. Attaching the rear legs to different holes in the crank plate gives you four different speed possibilities within slow speed mode.
The body is made from a transparent orange ABS resin that allows you to see all of the motors, gears, cranks, and linkage rods in action.
Basic specifications
Total length: 180 mm
Total weight: 95 g (without batteries)
Body material: ABS resin
2 gears included, one for high speed and one for low speed.
Motor, gearbox, and control switch are included.
A screwdriver for the assembly is provided.
Requires one AA (a.k.a. R6 or UM3) battery (sold separately).
Continuous running time with Alkaline battery: 3hrs. at low speed / 1hr. at high speed
Note: This is a kit. Assembly requires using a screwdriver and snapping parts together. No soldering is required. Run on flat, smooth surfaces; avoid running over slopes, on bumpy roads, or on thick carpet.
People often buy this product together with: