2. Materials and Tools
Beyond the Wixel, you will need a suitable input device to convert. We used a Tandy Deluxe Joystick for this tutorial, but any device that uses pushbuttons, switches, and/or potentiometers for input will probably work.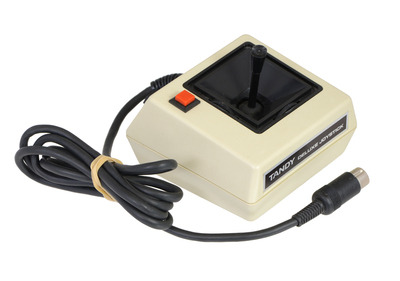 The Tandy Deluxe Joystick in its original form.
The tools and supplies you require will probably depend on your particular situation, but might include:
Screwdrivers
Soldering iron and solder
Diagonal cutter
Wire stripper
Some wire for making connections to the Wixel
Double-sided foam tape or hot glue gun
USB cable, A to Mini-B
Many of the tools are available in the Tools section of the Pololu web site.