If you use Windows XP, you will need to have Service Pack 3 installed because Atmel Studio 6 requires it.
As a first step for programming AVRs in Windows, we recommend downloading and installing Atmel Studio 6.1, an integrated development environment (IDE) from Atmel. You can use this direct download link for Atmel Studio 6.1 update 2.0 (~650 MB exe) or find it on Atmel's website.
After Atmel Studio 6.1 is installed and working, download and install the Pololu AVR Development Bundle (~11MB exe). The Pololu AVR Development Bundle contains these components:
When you run the Pololu AVR Development Bundle installer, it will ask you which components to install. If you are not sure which ones you will need, it is OK to install them all.
The installer for the Pololu AVR C/C++ Library will ask you which AVR toolchains you want the library to be installed into: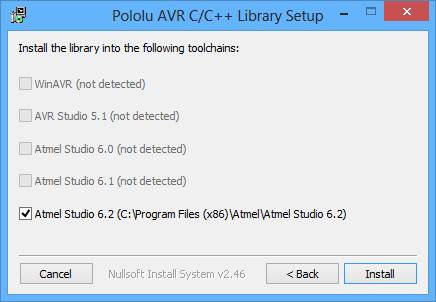 The second screen of the Pololu AVR C/C++ Library installer for Windows.
If the Atmel Studio 6.1 checkbox is grayed out, then the installer was unable to find Atmel Studio 6.1 and you should try reinstalling or repairing it. You should leave the Atmel Studio 6.1 box checked so that the library can install its files into Atmel Studio 6.1.
During the installation, Windows will ask you if you want to install the drivers. Click "Install" (Windows 7, 8, and Vista) or "Continue Anyway" (Windows XP).
If you have an Orangutan X2, you will also need to install our CP2102 drivers.