Welcome to Pololu Robotics and Electronics, your source for robot kits, robot parts, and robot electronics. You can order online through this web site or through one of our distributors. Please contact us at any time if you have any questions or comments. Our robotics forum is also available for interacting with Pololu engineers and other robotics enthusiasts about our products, your projects, and electronics and robotics in general.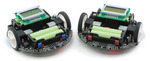 Choose from our selection of affordable robot kits with soldering or without soldering. We have various beginner-level robot kits as well as advanced walking robots, robotic arms, and our high-performance 3pi robot.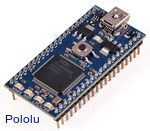 Use these controllers as the brain for your next project. You can connect them to your computer and program them in various languages including BASIC, C, and C++.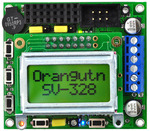 Pololu's Orangutan robot controllers are complete control solutions for small and medium robots or similar projects. All Orangutans feature Atmel AVR microcontrollers and multiple H-bridges for direct control of DC motors. Most units have integrated LCD displays.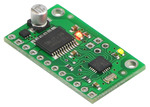 Take command of the speed and direction of your brushed DC motors using these controllers. This category includes single and dual serial motor controllers with a variety of features such as analog, RC, or USB control, speed/position feedback, channel mixing, and more.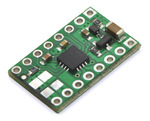 Single and dual motor driver carriers get your brushed DC motor projects up and running quickly using modern H-bridges with high-performance MOSFETs that deliver hundreds of watts in a compact package. Give these boards a PWM signal and make your motors go!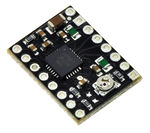 With features like adjustable current limiting and selectable microstep resolutions, these drivers make it easy to get a stepper motor running with simple step and direction control interfaces.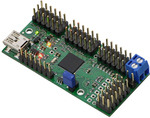 Pololu's compact serial and USB servo controllers offer industry-leading resolution and stability for precise, jitter-free control of your RC servos. Unique features include separate speed and acceleration settings for each servo, the ability to turn servos off, and advanced mapping of low-resolution commands for optimal range and resolution.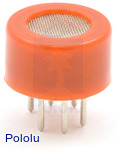 Let your robot or electronics project gather information about the world around it using our wide selection of sensors.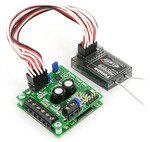 Electronics components that have interfaces for standard hobby servo RC pulses, such as our RC switch, RC multiplexer, and TReX motor controllers.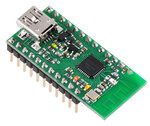 Radio, wireless communication, and GPS modules.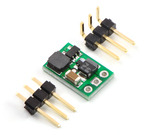 Wires, solderless breadboards, prototyping PCBs, voltage regulators, our pushbutton power switch, and more!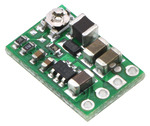 Ensure your project gets the voltage it needs with these voltage regulator boards and wall-adapter power supplies.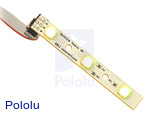 Discrete LEDs and RGB LED modules for use in indicators and displays.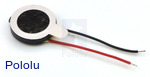 Give your robots and electronics projects some character with these high-quality, compact buzzers and speakers, and detect and record sounds with our selection of microphones and voice recorders.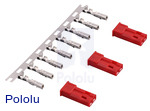 Cleanly connect wires and modules to each other with our various connectors.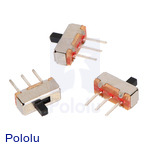 An assortment of switches, buttons, and relays that can serve as user-interface elements, tactile sensors, power switches, and more.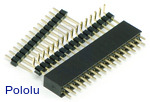 A variety of electronic parts you'll need for your projects, including integrated circuits, a large assortment of connectors and headers, and more!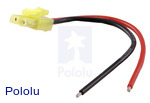 Servo extension cables, USB cables, jumper wire kits, and more!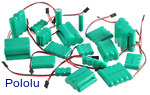 Power your robots and electronics projects with our assortment of batteries and battery packs.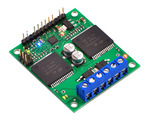 See our unique assortment of electronic parts for your robotics and other projects. This section includes our Orangutan robot controllers, motor and servo controllers, discrete components, and electronics kits.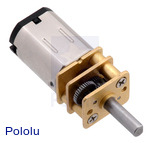 Our wide selection of DC motors, geared DC motors, and stepper motors will help you find the perfect blend of torque and speed for your project.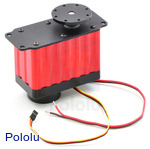 Radio control hobby servos in a variety of sizes. With integrated motor-control circuitry and position feedback, servos are an easy way to add controlled motion to your robotics or electronics project. Whatever your application, we probably have a servo for it!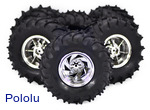 We offer a large variety of wheels, tracks, and ball casters to help you get your project rolling.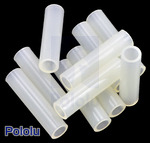 The nuts and bolts for your project.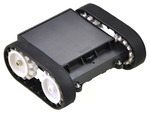 General purpose bases for your mobile robot.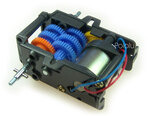 Tamiya manufactures a wide range of inexpensive hobby and educational products, including gearbox kits, wheels, and robot kits.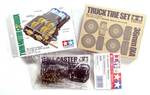 Save money and make ordering easier with these bundles of items that are commonly used together.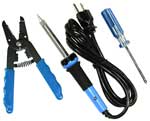 You can't build robots without a few basic tools, including a soldering iron and diagonal cutters.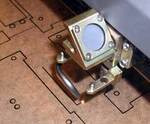 We offer custom laser cutting of 2-D parts from plastics, woods, and other materials, as well as custom laser cutting of mylar surface-mount (SMT) solder stencils.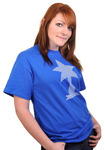 Express your love of robotics with a Pololu T-shirt!
---