Compare all products in this category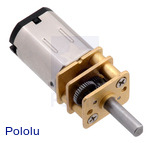 With a cross section measuring only 10×12 mm (0.39″×0.47″), these small brushed DC gearmotors are available in a wide range of gear ratios—from 5:1 up to 1000:1—and offer a choice between three different motors: high-power (HP), medium-power (MP), and standard. Some versions are also available with an optional extended motor shaft.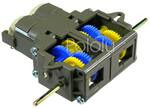 All of these Tamiya gearboxes have 3mm hexagonal shafts.
---