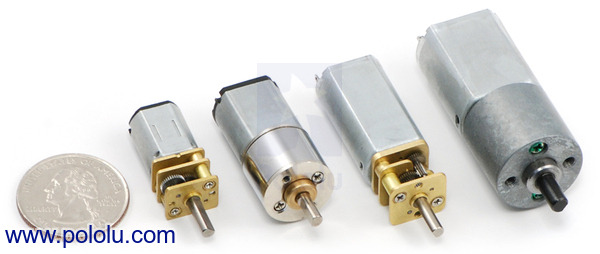 Some of the Pololu metal gearmotors.
We offer a wide (and growing) selection of brushed DC metal gearmotors that will let you choose the optimal torque and speed for your application. The following link will take you to a parametric comparison table that can help you find a metal gearmotor that is just right for your project:
Compare all products in this category
Subcategories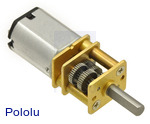 With a cross section measuring only 10×12 mm (0.39″×0.47″), these small brushed DC gearmotors are available in a wide range of gear ratios—from 5:1 up to 1000:1—and offer a choice between three different motors: high-power (HP), medium-power (MP), and standard. Some versions are also available with an optional extended motor shaft.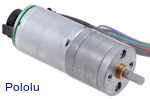 These 25 mm-diameter (0.98″) gearmotors, spanning a range of gear ratios from 4.4:1 to 499:1, offer a good combination of power and compactness. We have high- and low-current versions to choose from, and integrated 48 CPR encoders are available with selected gear ratios.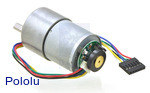 Measuring 37 mm (1.46″) in diameter, these 12 V motors are the largest and most powerful gearmotors we carry. They are available in a range of gear ratios from 19:1 to 131:1. An integrated 64 CPR encoder is an option for all of these motors.
---
Products in category "Pololu Metal Gearmotors"