SCP1000 Absolute Pressure Sensor Carrier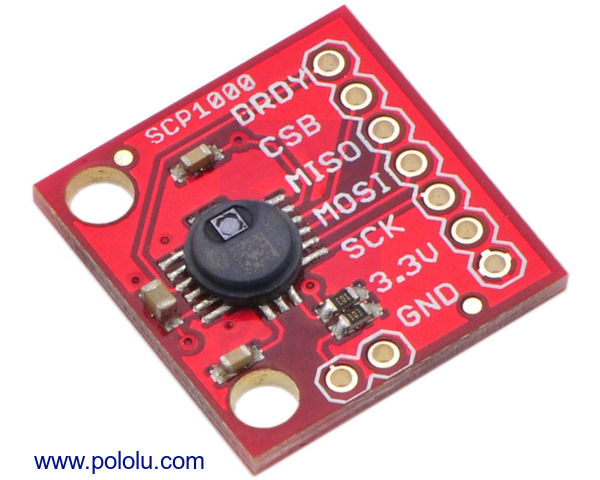 SparkFun's carrier board for the SCP1000-D01 absolute pressure (and temperature) sensor allows pressure measurements with 17-bit (1.5 Pa) resolution over a range of 30 to 120 kPa, which lets it work well as part of a barometer or altimeter. Both the pressure sensor and built-in thermometer can be read via the SPI lines brought out by the carrier board to a 0.1" header.
SparkFun has discontinued the SCP1000 absolute pressure sensor carrier; they suggest the BMP085 as a replacement.
Overview
This SCP1000 MEMS absolute pressure sensor carrier by SparkFun makes high-resolution pressure and temperature readings available via a serial peripheral interface (SPI). The 1.5 Pa pressure resolution corresponds to an altitude change of just 10 cm at sea level, making the SCP1000 particularly suitable for pressure-based altimeters. The sensor can also be used as a barometer as it is in SparkFun's USB Weather Board. The pressure and temperature readings are calibrated and compensated internally. Since this absolute pressure sensor breakout board is a carrier for the SCP1000, we recommend careful reading of the two datasheets that can be found on the Resources tab.
SCP1000 is comprised of a VTI 3D-MEMS capacitive sensing element, a dedicated low power CMOS interface ASIC with on-chip calibration memory, 4 preset measuring modes, and a liquid crystal plastic (LCP) molded interconnect device (MID) housing. The component is a surface mountable device incorporating a circular vertical wall for waterproof sealing.
This unit comes in a newly developed RoHS-compliant plastic housing. Normal hot-air rework will destroy this sensor so we highly recommend this breakout board for prototyping. The breakout board's pins have a 0.1" pitch and work with 0.1" male headers and 0.1" female headers.
The carrier board exposes the PD and TRIG pins (they are labeled on the bottom of the board) of the SCP1000 making it possible to operate the SCP1000 in low-power mode.
Note: The SCP1000 is a 3.3V part. The voltage on the pins should not exceed Vdd+0.3V, so external components (such as voltage dividers) are required when interfacing with 5V systems.
Features
2.4 to 3.3 V supply voltage
25 μA current consumption (in high-resolution or high-speed mode), 3.5 μA in low-power mode
30 to 120 kPa pressure range
1.5 Pa pressure resolution (typical when in high-resolution mode)
-20 to 70°C temperature range
0.2°C temperature resolution (typical), ±1°C accuracy (typical)
SPI interface